Objective
Navigating the complexity that surrounds us demands humility and an awareness that we might not know the answers to all questions. However, it is fundamental to seek out the tools necessary to make sense of this complexity, without letting others, perhaps less humble than we are, do it in our place.
Argo's goal is empowering youth to consume information critically.
About us
We are a group of young graduates in Economics, Biology, International Relations, Engineering. We have a passion for teaching and a desire to share our experiences and knowledge with high school students.
Our members are very active within the city community and already have extensive experience with the management of workshop activities aimed especially at young people.
The project
To date, Argo has engaged with more than 200 high school students in the context of various lectures and workshop activities. Some of the topics covered so far include an introduction to the institutions of the Italian Republic and of the European Union, the publishing process for scientific articles, the debate on vaccines and on end-of-life.
The Argo method consists of a two-step learning process:
A content-based session, led by us, which involves the transmission of the critical tools necessary for the interpretation of the chosen theme, engaging students through interactive presentation methods.
An applied / workshop-based session, aimed at deepening the understanding of the content introduced during the previous session, led by students through group work, the production of articles/videos/posters, competitions and debates.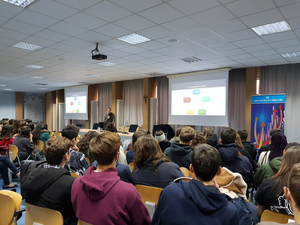 All the students interviewed said they would have liked to see the project being carried out again in the future. Over 90% viewed the experience positively, and it was also possible to include the project within the "school-work alternation" framework.
Contacts
For any information, and for requests of participation at a school or in other educational settings, you can contact us at info.progettoargo

gmail.com